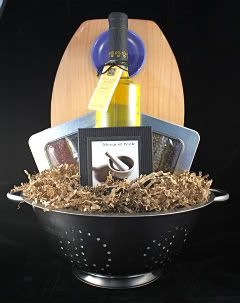 It includes the following practical and delicious items in a 5-quart stainless steel colander:

* A beautiful Oregon Red Alder "Bread and Oil board" with black bowl for dipping
* An 11.8 ounce bottle of Pomegranate White Balsamic dipping oil by Wine Country Kitchens
* Four sea salts in a tin gift box
* Four gourmet peppercorns in a tin gift box
* A palm sized mortar and pestle for herbs and salts


GIFT 2

14k Yellow Gold Horse Head Earrings with Diamond Ring

Diamonds, sapphires, and comfort!14k gold Omega clip lever back horse head earrings for pierced ears. Sapphire eye and diamond ring. Diamonds set in white gold ring to maximize sparkle.


()~() ()~() ()~() ()~() ()~() ()~() ()~() ()~() ()~() ()~()



Gentleman



GIFT 1


Stallion Sculpture
A breathtaking piece by Marrita McMillian. To create this piece, Marrita draws on her love of horses and has captured the expression, movement and beauty of the Stallion in this beautiful home accessory. Exquisitely finished with pewter, including a wooden base, this horse statue is sure to be enjoyed for many years to come.


GIFT 2


14K Gold Asian Horse Cufflinks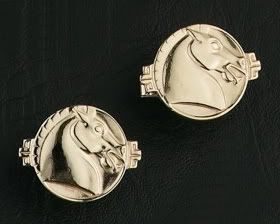 A handsome pair of 14k gold Asian horse head cufflinks.